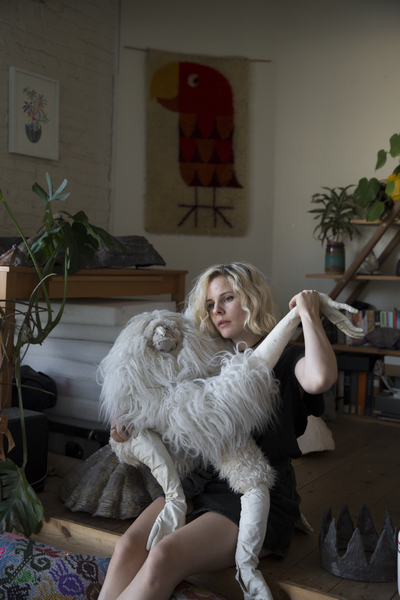 Jemila MacEwan in their studio. Image credit: Katharina Poblotzki

Jemila MacEwan is an interdisciplinary artist living and working in New York. MacEwan was born in Scotland to Sufi parents, and immigrated to Australia as a child, where their upbringing intertwined scientific, mythological and spiritual ways of learning from the land. MacEwan is known for their intimately interwoven earthworks, sculptures and performances that build mythological narratives around meteorites, volcanoes, fault-lines and melting glaciers. These stories engage with the emotional complexity of humanity's destructive impact, to the planet and to itself, as a way to understand what it means to be human within the Holocene Extinction. MacEwan asserts:
"For us to meet the challenges brought on by a world in change, we must shed the layers of denial that separate humans from the natural environment to recognize nature as a diverse network of powerful and animated forces, that deserves our attention, trust and respect." - Jemila MacEwan
MacEwan is a recipient of The Marten Bequest Travelling Scholarship 2020. They received a Master of Contemporary Art at the University of Melbourne, Australia. They have performed and exhibited extensively internationally including; ARoS Museum (Denmark), The Australian Consulate-General (NYC), Pioneer Works (NYC), Victori+MO (NYC), The Elizabeth Foundation for the Arts (NYC), NYCXDESIGN (USA), BRIC Biennial III (NYC), Skaftfell Center for Visual Art (Iceland) and The Castlemaine State Festival (Australia). They have been invited to attend many residencies notably; BANFF Center for Arts and Creativity (Canada), NARS Foundation (NYC), Ox-Bow School of Painting (MI), Sculpture Space (NY), and is the founder of the performance process residency Land Falls (NY). They have been invited to host and participate in public talks and discussions on themes of intercultural practice, mental health, and environmental accountability. MacEwan has been generously supported by the Foundation for Contemporary Arts, The Australia Council for the Arts, Café Royal Foundation, the Dame Joan Sutherland Fund, the Ian Potter Cultural Council and the Graduate Women of Victoria.