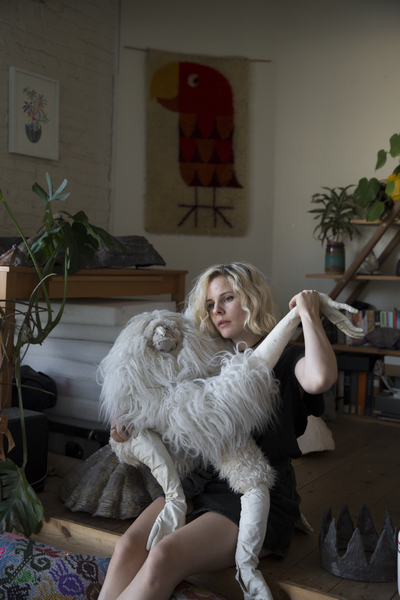 Jemila MacEwan in her studio. Image credit: Katharina Poblotzki

Jemila MacEwan is an interdisciplinary artist living and working in New York. MacEwan was born in Scotland to Sufi parents, and immigrated to Australia as a child, where her upbringing intertwined scientific, mythological and spiritual ways of learning from the land. She continues to draw connections between people and place; material and culture; spirituality and experience. MacEwan's work seeks out an empathetic approach to humanities destructive impulses. Using sculpture and performance in intimate communication with the environment, MacEwan inserts herself within the landscape to participate in the process of constant change and exchange between culture and the natural world. In her recent works MacEwan inhabits the role of various forms of destruction of the natural world such as a meteorite, volcanoes, fault-lines and melting glaciers as a way to understand what it is to be human in the age of the Holocene Extinction. In her work, these phenomena act as a counterpoint to the conscious and unconscious impact that humans have on each-other and the planet.
MacEwan received a Master of Contemporary Art at the University of Melbourne, Australia. She has exhibited extensively within Australia and the USA and is a consistent collaborator with members of the New York Dance community. Significant exhibitions include The Australian Consulate-General (NYC), Pioneer Works (NYC), Victori +MO (NYC), The Elizabeth Foundation for the Arts (NYC), Governor's Island Art Fair (NYC), BRIC Bienniel III, Spring Break Art Fair, The Melbourne International Arts Festival (Australia), Gertrude Street Projection Festival (Australia), and Arquetopia (Mexico), and Castlemaine State Festival in 2019 (Australia). MacEwan received a two-year mentorship under internationally renown artist Janine Antoni and was selected as a NYFA immigrant mentee of Jamaican performance artist Jodie Lynn-Kee-Chow. MacEwan was a 2018 BRIC media arts fellow. She is the founder of the performance process residency Land-Falls and has participated in many residencies including NARS Foundation (NYC), Ox-Bow (MI), Salem Art Works (NY), Arquetopia (Mexico
), and Skaftfell Center for Visual Art (Iceland).

She has been invited to host and participate in panel discussions on themes of intercultural practice, mental health, and environmental accountability.

She has been the recipient of multiple awards including the Alchera Award, Acaci
a Award, Alliance Francaise Award, George Hicks Award. She has been generously supported by the Australia Council for the Arts, the Dame Joan Sutherland Fund, the Ian Potter Cultural Council and the Graduate Women of Victoria.